Protein Pancake Muffins – A Match Made in Heaven
Any protein breakfast recipe roundup would be seriously lacking without a powered-up protein pancake muffin. This recipe is one of the finest-tasting pancake muffins in all of the land. Check them out for yourself!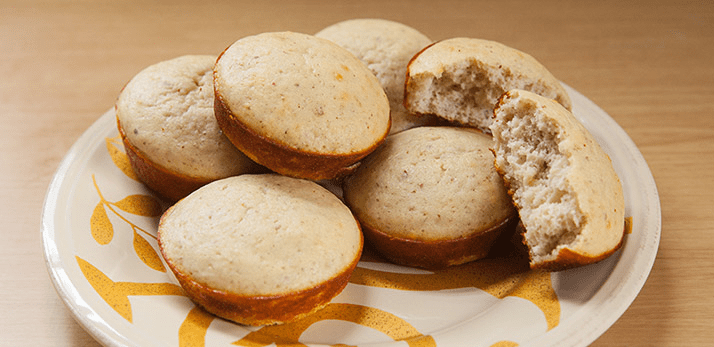 Serving Size:Â 1 muffin
Yield: Â 10 muffins
Ingredients:
1 ½ cups Unsweetened almond milk
1 ripe banana
2 tsp almond extract
1 egg
Directions:
Preheat the oven to 350ºF
Mix all ingredients together in food processor OR if making by hand, mash the banana until smooth. Add all remaining ingredients and mix thoroughly to make sure there are no lumps.
Spray muffin tin with canola oil spray, coating all sides. Fill each muffin tin ¾ way to the top.
Bake 15-20 minutes or until a toothpick comes out clean when pierced into a muffin.
Nutrition Facts:
Calories:Â 53
Fat:Â 1.4g
Carbohydrates:Â 10.4g
Protein:Â 3.9g
If you like what you see in this blog post showcasing protein pancake muffins, please let me know by liking our Facebook business page below as well as signing up for our newsletter so you'll never miss protein-filled recipes like this or other great content to help you reach your goals.