Featured Fitness Products for February 2018
With different products launching every day, it's hard to keep track of everything.  Therefore, I want to share a list of products that I think are worth checking out.  Here are my featured fitness products of the month.
Featured Fitness Products for February 2018
(each of these brands have given me permission to use their product/information in this content)
---
Rock Solid Nutrition EAA Pump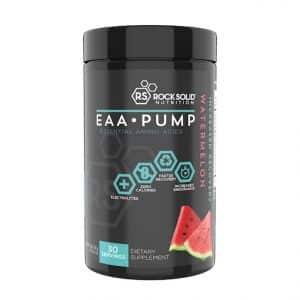 For the longest time, BCAAs (L-Leucine, L-Isoleucine, and L-Valine) were the craze in terms of not only intra-workout supplements, but also muscle growth. Quite frankly, amino acids are what make up protein which when consumed, can aid in building quality lean muscle mass. Amino acids are commonly referred to as "the building blocks of muscle."
It wasn't until recently that researchers discovered that BCAAs alone, are not going to help build new muscle as efficiently as we first assumed. In fact, it's the EAAs (essential amino acids) in combination with BCAAs that actually are the most beneficial when looking at the muscle growth equation.
When dieting, the essential combination of researched ingredients found in EAA Pump will help reduce muscle breakdown (catabolism) to minimize the amount of muscle you could potentially lose due to being in a caloric deficit.
On the flip side, when you are bulking, these ingredients and EAA Pump (specifically) will provide your muscles with the proper nutrients they need to spark muscle growth and lean mass gains.
Key Benefits:
Zero calories
Added electrolytes for hydration
Increased pump and blow flow
Improved performance
Increased endurance
Faster recovery
If you are interested in learning more or purchasing Rock Solid Nutrition EAA Pump, click here.
---
Pure Protein Breakfast Bars
If you are a fan of Pure Protein bars, you're going to love their new breakfast bars.  They are available in four delicious flavors — Dark Chocolate Almond Oatmeal, Sweet & Salty Peanut Butter, Blueberry Oatmeal, and Strawberry Waffle.  Which do I prefer?  Can I say all of them?
Each flavor comes in a 50 gram size and contains 12 grams of high-quality protein.  Some of the benefits of these breakfast bars are:
Good source of protein
Gluten free
Only 2-5 grams of sugar
Contains 22 vitamins and minerals
No high fructose corn syrup
Added fiber
Made with oats, chia seeds, quinoa, and flaxseed
Naturally-sourced colors and flavors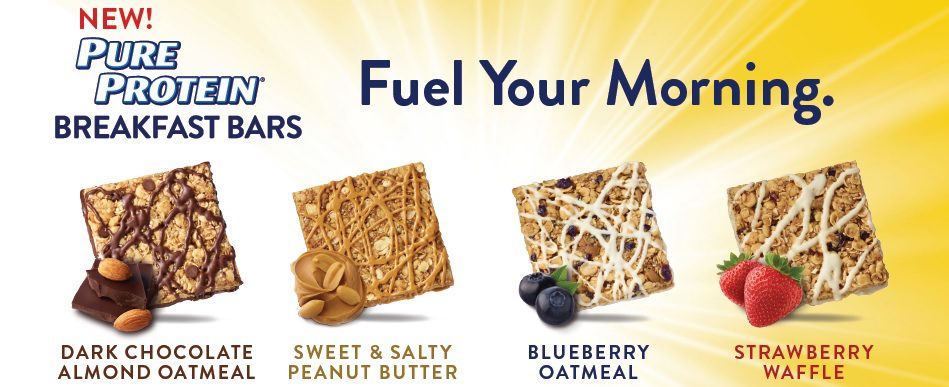 Each flavor is between 190-200 calories per serving and come individually wrapped.  I can easily get bored with breakfast bars when I'm on the go, but the Pure Protein Breakfast Bars are amazing.  These bars are definitely something to get you up and out of bed in the morning.  No more hitting the snooze button when you know you have a Pure Protein Breakfast Bar waiting for you.  Tackle the day and get energized with a nutrient-dense breakfast bar to start your day off on the right foot!
You can find the new Pure Protein Breakfast Bars at all major retailers.
---
Stay tuned for the March 2018 featured fitness products!