Pumpkin Vanilla Protein Oatmeal – Start Your Morning Right!
Eating the same old oatmeal every morning is no fun. So mix it up with this new twist on oatmeal. In just 5 minutes you'll take your boring oatmeal and turn it into a delicious protein oatmeal!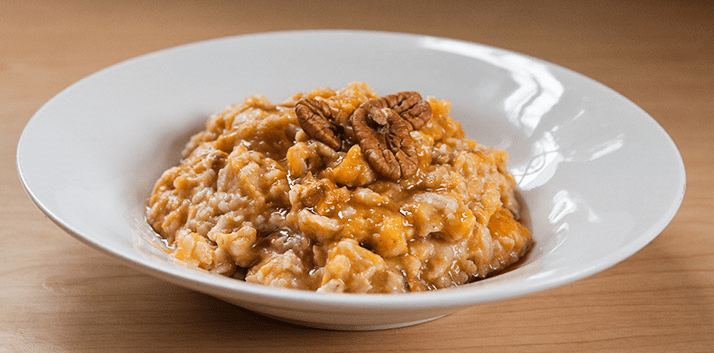 Serving Size: 1 bowl
Total Time: 5 minutes
Ingredients:
  ½ cup rolled oats
  1 cup of water
  1/3 cup canned pumpkin
  ½ scoop of vanilla MET-Rx Ultramyosyn Whey protein powder
  ½ tsp pumpkin pie spice
  1 tsp maple syrup (or sugar free syrup)
  1 tsp chopped pecans
  1 tsp raisins, chopped up
Directions:
In a medium microwave-safe bowl combine the oats and water. Pop them in the microwave for two minutes.
Remove oats from microwave and stir in the canned pumpkin, protein powder, pumpkin pie spice, and maple syrup. Top with raisins and pecans. Enjoy!
Nutrition Facts:
Calories:Â 298
Fat:Â 9.4g
Carbohydrates:Â 41.9g
Protein:Â 16.2g
*Note: You can substitute any protein powder you want above. Vanilla is the preferred flavor, but you can be creative. Also, you can use whatever brand you choose, for the sake of this recipe, the MET-Rx Ultramyosyn Whey was used. If you decide to use a different protein powder, please be aware that the macros listed in the nutrition facts above will change depending on the macros in the protein powder you choose to use.
If you like what you see in this blog post showcasing pumpkin vanilla protein oatmeal, please let me know by liking our Facebook business page below as well as signing up for our newsletter so you'll never miss protein-filled recipes like this or other great content to help you reach your goals.