FitJoy Grandma's Lemon Square Review
Many of you know I've been in the supplement industry for over a decade and have worked for brands such as MET-Rx, Pure Protein, and Balance Bar that produce some of the best tasting bars out on the market today.  However, none of those brands can hold a candle to the taste of the new FitJoy Grandma's Lemon Square.  This protein bar is out of this world.  And being that I've had just about every protein bar out there under the sun to help build the brands I worked with, none come close to the flavor FitJoy nailed.

I am a huge fan of lemon squares, and nothing frustrates me more than opening up a bar that is supposed to be a certain flavor and having it taste nothing like the flavor it's supposed to be.  That being said, the FitJoy Grandma's Lemon Square tastes exactly like a lemon square.  It's amazing!  It's soft and has the exact same texture as a lemon square.  FitJoy legit knocked it out of the park with this bar.  I don't get excited for bars very often, but this bar will always be stocked in my office from this day forward.
Each bar has 220 calories, 20g of protein, and is free of GMO's, gluten, artificial flavors, colors, and sweeteners.  The bar also contains 11g of fiber which I feel is missing from a lot of bars these days as well as people's diets.  Would I recommend this bar?  Absolutely!  It sure as heck beats the chocolate or peanut butter flavored bars that oversaturate the market since everyone and their brother decides to launch bars that flavor.  FitJoy has truly come out with something completely innovative and unlike any bar out there today with this particular flavor profile.  If you can get your hands on the FitJoy Grandma's Lemon Square, I'm willing to bet they will knock your socks off.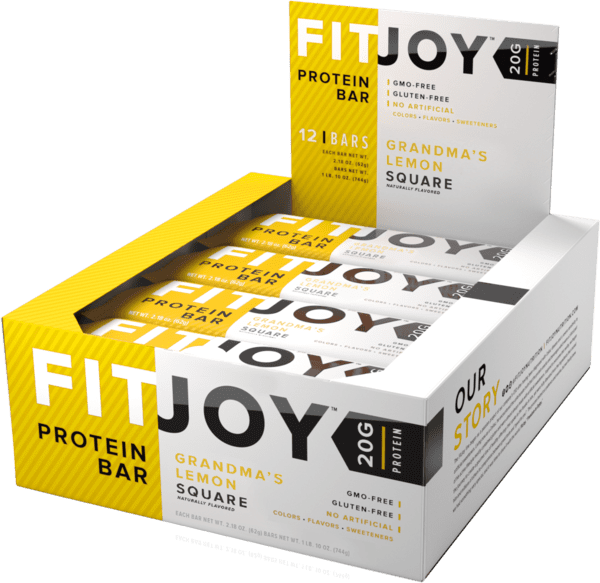 Did you like this review?  Please share it with your friends and followers!  Also, please like our Facebook page by clicking on the Facebook link below.
Want to see another amazing protein bar we reviewed?  Check out our review of The Best Bar Ever!