Coconut Vanilla Protein Crepes Recipe
You don't have to go to France in order to eat amazing coconut vanilla protein crepes. In fact, you can make them right in your own kitchen! Bon appétit! These are a definite must try if you are a fan of crepes!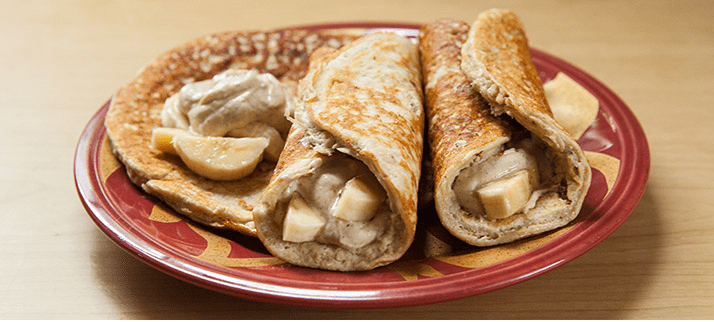 Yield:Â 1 serving
Serving Size:Â 1 crepe with filling
Crepe Mixture Ingredients:
4 egg whites

½ cup instant oats

1 small ripe banana

½ tsp vanilla extract
Â
Directions:
Put all crepe ingredients in a blender and mix for 30 seconds.

Â

If mixture is too thick add a tbsp water until a smooth pourable batter consistency is achieved.

Cook crepes in coconut oil for 20 seconds each side in preheated pan.
Â
Filling Ingredients:
1 cup non-fat greek yogurt

2 tbsp natural peanut butter (or MET-Rx Powdered Peanut Butter)

½ tsp ground cinnamon

½ tsp vanilla extract

1 tbsp honey or agave

(adjust filling for desired sweetness)
Â
Directions:
Fill each crepe with banana and yogurt filling.
Nutrition Facts:
Calories:Â 608
Fat:Â 7.5g
Carbohydrates:Â 71g
Protein:Â 65g
*Note: You can substitute any protein powder you want above. Vanilla is the preferred flavor, but you can be creative. Also, you can use whatever brand you choose, for the sake of this recipe, the Body Fortress Super Advanced Whey was used. If you decide to use a different protein powder, please be aware that the macros listed in the nutrition facts above will change depending on the macros in the protein powder you choose to use.
If you like what you see in this blog post showcasing coconut vanilla protein crepes, please let me know by liking our Facebook business page below as well as signing up for our newsletter so you'll never miss protein-filled recipes like this or other great content to help you reach your goals.