Chocolate Peanut Butter Protein Cupcakes
When you are in the mood for cupcakes, but don't want to ruin your diet, then you definitely want to give these Chocolate Peanut Butter Protein Cupcakes a try! Slammed with protein, these are sure to crush you craving!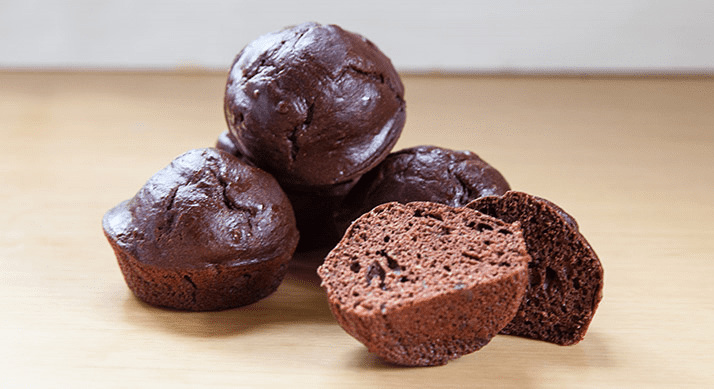 Yield:Â 12 cupcakes
Serving Size:Â 1 cupcake
Ingredients:
1 cup oat flour

6 tablespoons unsweetened cocoa

4 egg whites

¼ cup nonfat Greek yogurt

½ cup unsweetened Almond Milk

½ tsp baking soda

¼ tsp baking powder

1 tsp vanilla extract

¼ cup stevia (or any natural sweetener of your choice)

Semi- sweet chocolate chips (amount is to your desire)
Â
Directions:
Preheat oven to 350 degree and spray cupcake tin with on-stick cooking spray.

Â

Mix all ingredients together using blender or food processor & divide evenly into 12 cupcake tins.

Â

Bake for 12-15 minutes.
Nutrition Facts:
Calories:Â 141
Fat:Â 3.6g
Carbohydrates:Â 12.6g
Protein:Â 13.9g
*Note: You can substitute any protein powder you want above. Vanilla is the preferred flavor, but you can be creative. Also, you can use whatever brand you choose, for the sake of this recipe, the Body Fortress Super Advanced Whey was used. If you decide to use a different protein powder, please be aware that the macros listed in the nutrition facts above will change depending on the macros in the protein powder you choose to use.
If you like what you see in this blog post showcasing chocolate peanut butter protein cupcakes, please let me know by liking our Facebook business page below as well as signing up for our newsletter so you'll never miss protein-filled recipes like this or other great content to help you reach your goals.