Chocolate Peanut Butter Cookies – The Perfect Treat
Who said that in order to stay in shape you had to lay off the sweets? Not in this case! Here's a chocolate peanut butter cookies recipe that uses protein powder and healthy fats to make dessert meet your macros.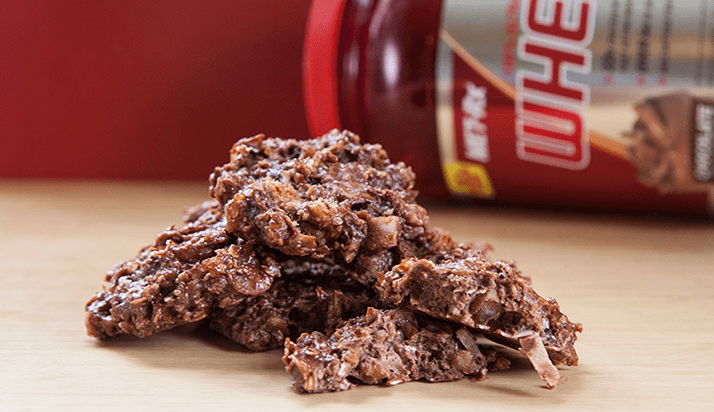 Yield: 6 cookies
Serving Size: 1 cookie
Ingredients:
¼ cup of Natural Peanut Butter (or MET-Rx Powdered Peanut Butter)

1 large ripe banana

½ cup chopped walnuts

½ cup quick cook oats

½ cup unsweetened shredded coconut

2 egg whites
Â
Directions:
Preheat oven 350ºF

Â

In a large bowl mash banana until smooth.

Â

Â

Add remaining ingredients and mix until combined.

Â

Lay a sheet of parchment paper on an oven tray and spoon bite size portions of cookie mix on tray.

Â

Â

Bake for 15 minutes.

Â
Nutrition Facts:
Calories:Â 184
Fat:Â 10.8g
Carbohydrates:Â 14.2g
Protein:Â 10.5g
*Note: You can substitute any protein powder you want above. Chocolate is the preferred flavor, but you can be creative. Also, you can use whatever brand you choose, for the sake of this recipe, the MET-Rx Ultramyosyn Whey was used. If you decide to use a different protein powder, please be aware that the macros listed in the nutrition facts above will change depending on the macros in the protein powder you choose to use.
If you like what you see in this blog post showcasing chocolate peanut butter cookies, please let me know by liking our Facebook business page below as well as signing up for our newsletter so you'll never miss protein-filled recipes like this or other great content to help you reach your goals.