Best Bar Ever Shelf-Stable Bars — Coming Soon! July 2017!
Unlike most protein bars that are formulated by food scientist using artificial ingredients, The Best Bar Ever uses quality, real-food ingredients to ensure the BEST Nutrition and Taste! In addition to their refrigerated, fresh bar line, I'm excited to announce the upcoming launch of the NEW Best Bar Ever SHELF-STABLE bars (non-refrigerated) line extension that features:
•BREAKTHROUGH INNOVATION: 3 NEW shelf-stable flavors without the use of added preservatives.
•BALANCED NUTRITION: Fats from nuts, premium proteins (whey isolate/casein), naturally sweetened.
•DELICIOUS TASTE: As you'd expect from The Best Bar Ever brand – still with no compromises.
•NEVER ANY: GMOs, sugar alcohols, artificial ingredients, added preservatives, empty calories/fillers.
•CAN BE USED AS: Meal replacement, on-the-go snack, or pre- / post-workout fuel source.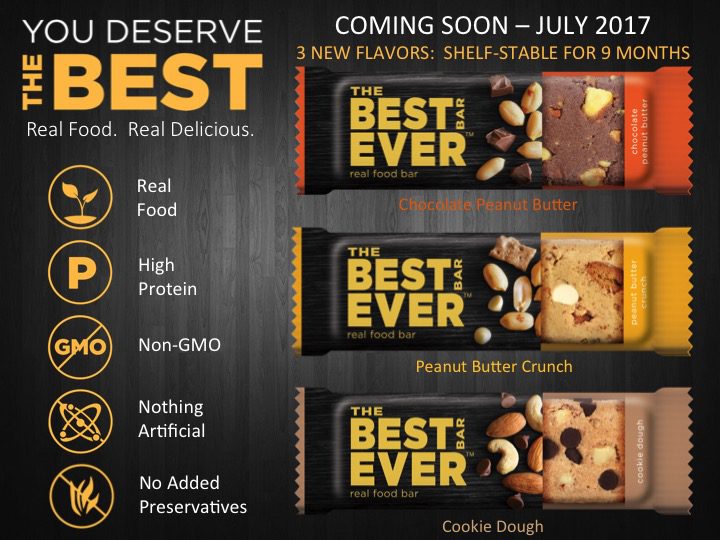 If you haven't tried their "fresh" line of bars yet, they are delicious!  You can read my full review of them here.  Also, don't forget that we got you an amazing 15% off discount for being one of our supporters.  All you need to do is click here and use coupon code WEIKFITNESS15 at checkout!
Do you have a website or blog and want to make some extra money?  You can become an affiliate of Best Bar Ever.  Click here to sign up!