Best Bar Ever making a SPLASH!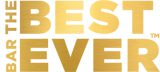 The Best Bar Ever is making a splash with athletic programs around the nation!  Below are just some of the programs that just came on board…
New York Giants
New York Jets
Carolina Panthers
Jacksonville Jaguars
University of North Carolina
Wake Forest University
University of Richmond
Iowa State University
University of Iowa
San Jose State University
and MANY more!
If you are a coach or athlete and would like to bring in The Best Bar Ever, please click here to contact us!  If you are a fitness enthusiast who that is looking for a REAL FOOD nutrition bar you can take advantage of our discount by clicking here and using code WEIKFITNESS15 at checkout for 15% off your first order!  Want to see what we thought of the bars?  Click here to check out our review!